Kitchen Exhaust Units
Viaclimate branded kitchen exhaust units are used in industrial kitchens to exhaust the oil, smoke and odor from the environment during cooking. The working areas of kitchen exhaust units are grouped under four main headings depending on the smoke, odor and oil density in the environment. Gradually for low-density, medium-density, high-density, very high-density kitchens; metal filter, active carbon filter and electrostatic filter are used.
Viaclimate kitchen exhaust units are designed in 3 different ways, depending on the density of polluted air, filtering, ambient air exhaust, fresh air supply, cooling, and heat recovery.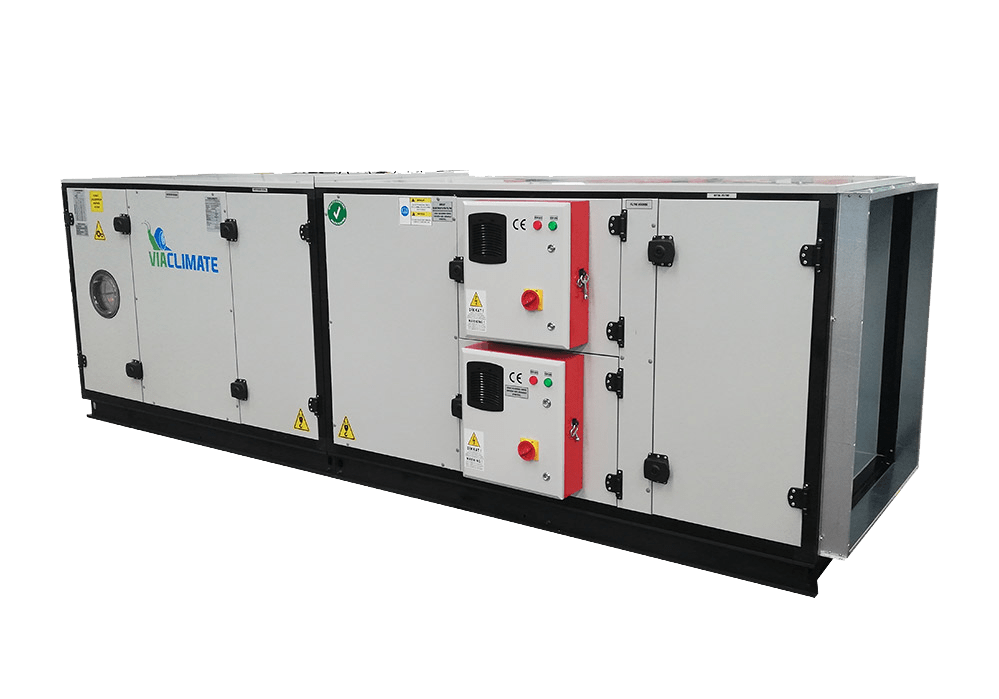 General Features of VIACLEAN Kitchen Exhaust Units
Cell Structure
Cell structure certified in accordance with EN1886 standards
Design in VKSStandard model
Modular production and easy assembly
Production in 29 different cell sections
Aluminum profiled carcass
60 mm double skin panel
90kg/m3 rock wool with A1 fire class according to DIN 4102
Outer panel sheet is 1mm painted galvanized, inner panel sheet is 0.8 mm galvanized
Air damper with aluminum blade and edge (aerofoil blade) for air exhaust part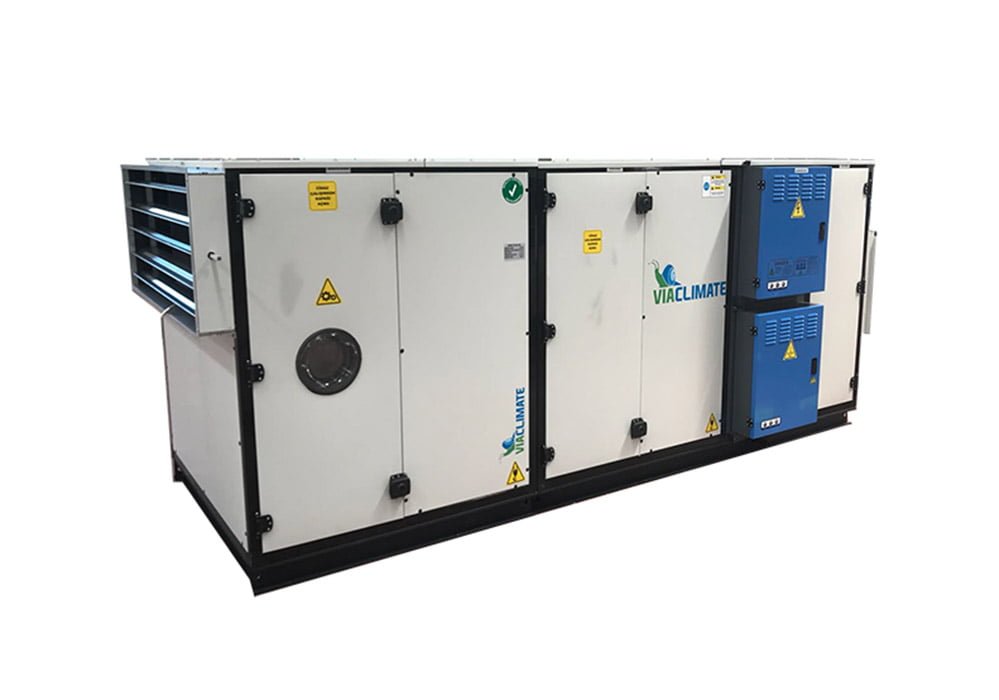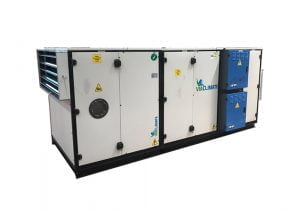 Equipment Features
Movable Parts with Plug Fan
AC or EC motors
Gas heat exchangers (DX) with copper tube, aluminum fins and copper collector
Aluminum Plate heat exchangers
G2 Metal Oil Filter
Activated Carbon Cartridge Filter
Electrostatic Filter
Standard Accessories
Sight glass
Stainless condensation pan
negative pressure siphon
Emergency stop
Motor-electric junction terminal box
Standard warning and mounting labeling
standard packaging
Optional Accessories
F7 Bag Filter
Ec-fan driveline
Suppressor
Lighting
Thermal magnetic circuit breaker
Outdoor protection (roof) sheet
Door switch
Pop-up running gear protection guards
Frequency inverter
Automation field equipment
Electrical Automation control panel
Other..
Electrical Automation Control Points
Analog Outputs
Motor frequency
Damper motor
Digital Inputs
Differential-pressure switch
Digital Outputs
Alarms
Engine thermal fault
Belt broke
Filter impurity
Electrostatic fault
Safety Points
Emergency stop
Electrostatic filter door switch
Electrostatic grounding
Engine protection
Door switch
Viaclean 100% Fresh Air Heat Recovery Kitchen Air Handling Units electrical automation control features
»» MCC and DDC panel design from a single control point »» Blowing and exhaust air flow adjustment with frequency inverter »» Hava kalite sensörü ile birlikte çalışma imkanı »» Possibility to prevent the air flow to the indoor environment in the off position of the device with the exhaust air damper»» "" Fire extinguishing system »» Filter fullness control and alarm (Applied separately for each filter stage.) »» Phase protection »» Opportunity to work in summer and winter conditions »» Ambient air temperature control »» Runtime programming »» Free cooling or free heating operation »» Modbus (RS485) communication protocol »» Integration of VRF outdoor unit with Heat Recovery Kitchen Suction Unit »» Full inverter VRF Outdoor unit