Roof Type Package Air Conditioner
Viaclimate branded rooftop packaged air conditioners are compact and combined air conditioners where the cooling or heating cycle takes place entirely within the same unit. Viaclimate Rooftop works by performing air conditioning processes such as fresh air supply, ambient air exhaust, air filtration, heating, cooling, heat recovery. Rooftop Packaged Air Conditioners do not need outdoor units to condition the air. The heating function is provided by using the electric heater, hot water coil or gas burning module as well as operating the device as a reverse cycle heat pump.
Viaclimate brand roof type packaged air conditioners allow high efficiency to work with low operating costs. Rooftop air conditioners are the most suitable devices to be used in plug-and-play logic, thanks to their electrical automation and compact design.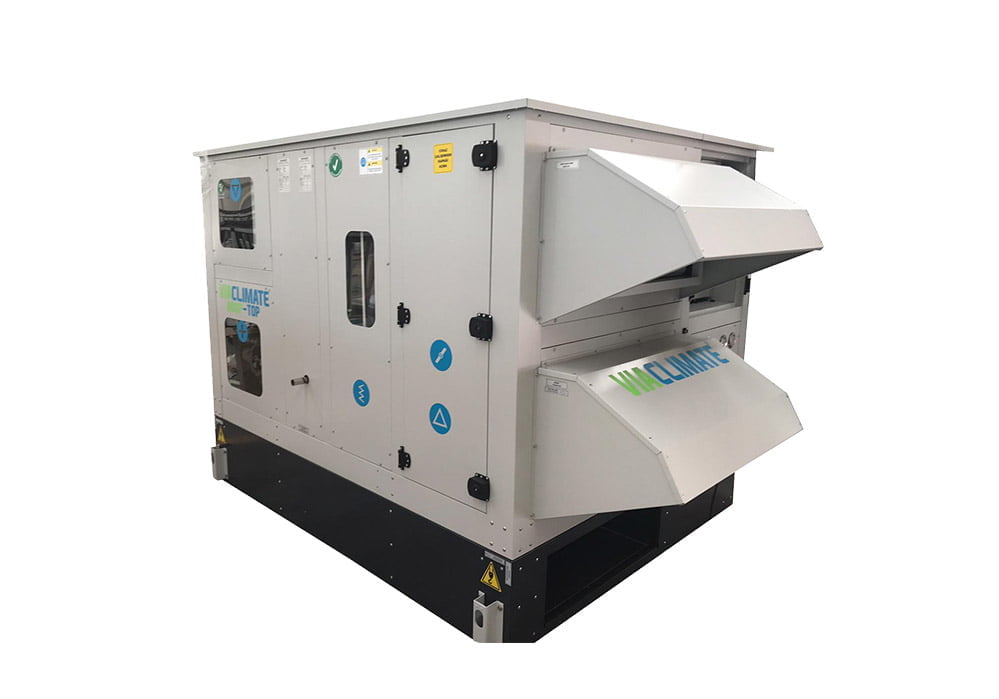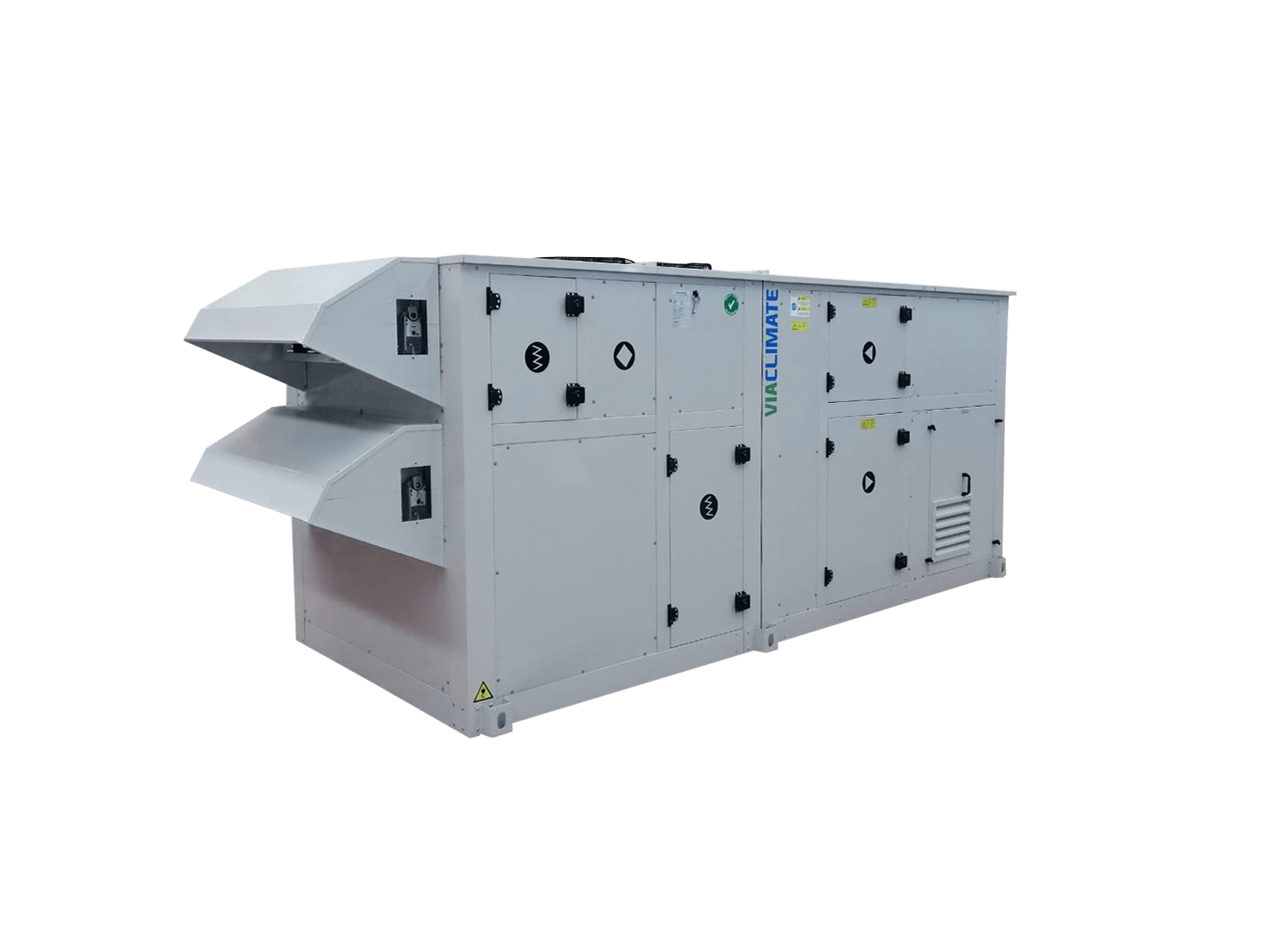 General Features of RTV Rooftop Packaged Air Conditioners
Cell Structure
Rigid design on galvanized sheet metal frame
Electrostatic powder coated outer surface
Compact Design
30 mm double skin panel
70 kg/m3 rock wool insulation
Outdoor compatibility as standard
Air damper with aluminum blade and edge (aerophilic blade)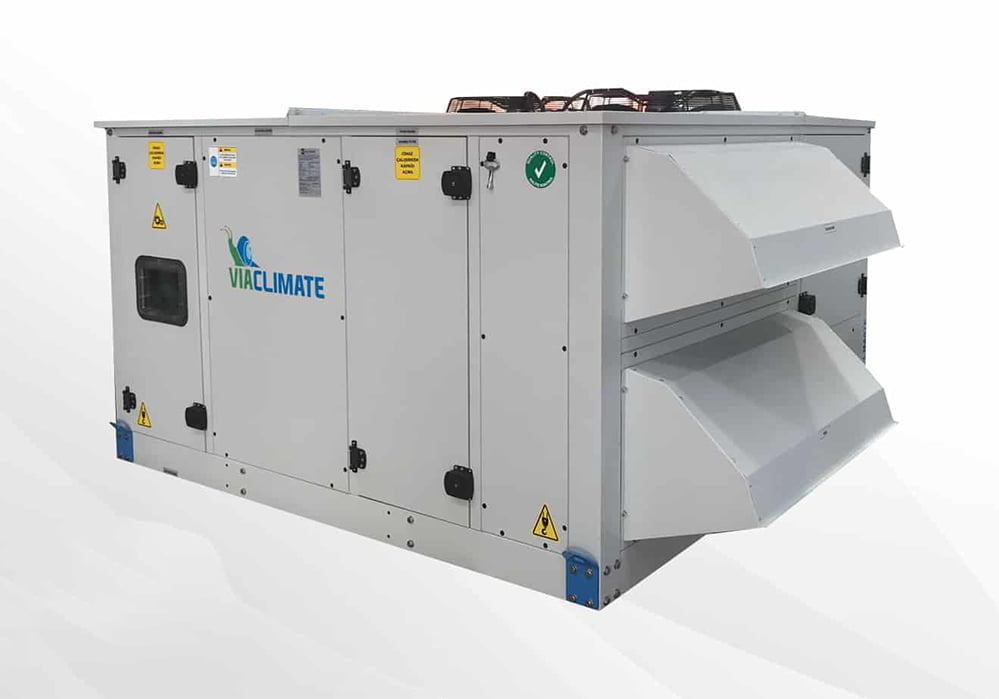 Equipment Features
Double inlet, Plug, Ec, Axial Fan moving parts
AC or EC motors
Electrical Automation control panel
Automation field equipment
Water heat exchangers with copper tube, aluminum fins and steel collector
Gas heat exchangers (DX) with copper tube, aluminum fins and copper collector
Heat-pump refrigerant cycle with scroll compressor
European origin refrigerant circulation equipment (drayer, four-way valve, expansion, check valve, low-high pressure sensors, etc.)
Natural gas (LNG) combustion heat exchangers
Electric heat exchangers
G2-M5 class panel filter
M5-F7 class bag filter
Standard Accessories
Sight glass
Stainless condensation pan
negative pressure siphon
emergency stop
Thermal magnetic circuit breaker
Outdoor protection (roof) sheet
Standard warning and mounting labeling
standard packaging
Optional Accessories
Lighting
Economizer Damper
Door switch
Pop-up running gear protection guards
Other..
Electrical Automation Control Points and Features
Analog Inputs
temperature sensor
humidity sensor
Pressure sensor
frost protection temperature sensor
Analog Outputs
Valve motor
Motor frequency (0-10 V)
Damper motor
Electronic expansion valve
Digital Inputs
Differential-pressure switch
frost thermostat
condenser high pressure
Compressor high pressure
Compressor low pressure
Digital Outputs
Electric heater stage
Fan start-stop
Compressor start
four way valve
Valve Motor
Checkpoints
Room thermostat
Return air
Fresh air
Touch screen
ModBus (RS485)
BACnet
Other Checkpoints
Time programming
Feed water temperature
Automatic mode change
Free cooling
Alarms
Engine thermal fault
Belt broke
Filter impurity
Frost
Electric heater malfunction
Compressor thermal failure
Rotor motor
Low pressure
High pressure
Safety Points
Emergency stop
Safety thermostat
High gas pressure
Low gas pressure
Condensation pressure
Engine protection
Frost thermostat
temperature thermostat
Door switch