IGK with DX Battery
Ceiling type heat recovery units with Viaclimate branded dx coils work by performing air conditioning processes such as fresh air supply of unhygienic environments, exhaust of ambient air, air filtration and heat recovery. Ceiling type heat recovery units with Dx coils do not need outdoor units for air conditioning. The cooling function is provided by the dx coil cooling cycle inside the device. Viaclimate branded heat recovery units are called HRUBOX DX. HRUBOX DX model heat recovery units are produced in package type and have a Plug-and-Play logic.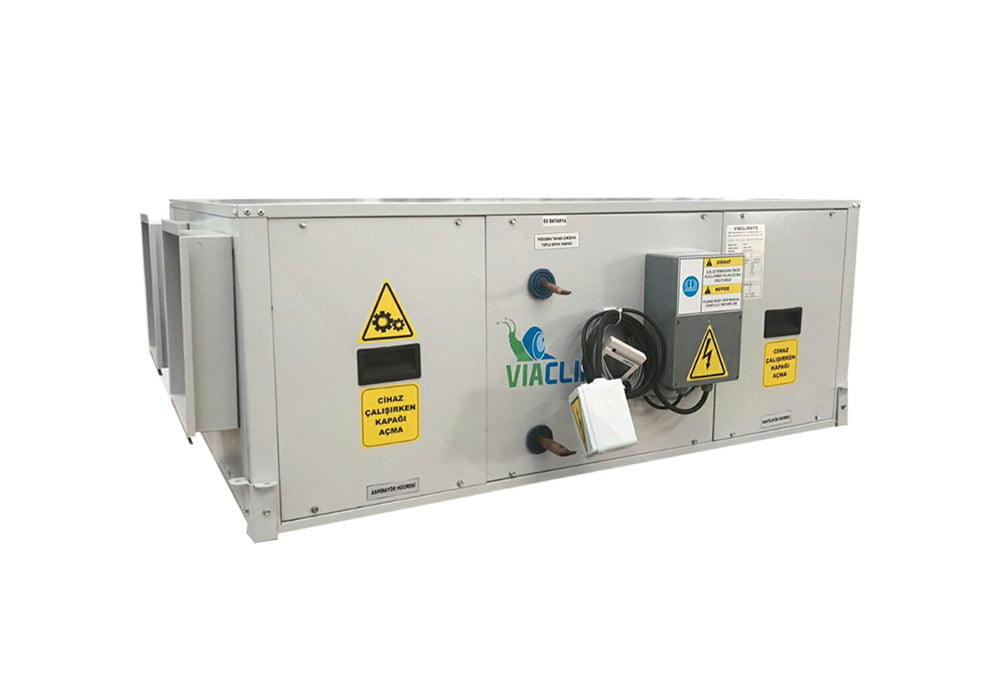 General Features of DX Battery IGK units
Cell Structure
Rigid design with galvanized sheet
Electrostatic Powder coated outer surface
10 mm NFAK sound insulation
Easy assembly
Equipment Features
Double inlet, Plug, Ec, moving parts (Italian, German origin)
AC or EC motors
Gas heat exchangers with copper tube, aluminum fins and copper collector (DX-Condenser)
DX heat exchangers suitable for R410a gas operation
Serpentine assisted electric heat exchangers
Aluminum Plate, Rotor heat recovery exchangers
Heat recovery exchangers with at least 52% efficiency
G2-M5 class panel filter
M5-F7 class bag filter
Standard Accessories
Control Panel
Outdoor unit start end as standard
Stainless condensation pan
negative pressure siphon
Electrical junction box
Standard warning and mounting labeling
standard packaging
Optional Accessories
Lighting
By-Pass Damper
Thermal magnetic circuit breaker
Outdoor protection (roof) sheet
Door switch
Pop-up running gear protection guards
Other..
Electrical Automation Control Points and Features
»» Manual and automatic fan speed control in AC motors
»» Working with air quality sensor
»» Control and alarm of filter fill rate
»» Heater Control
»» Damper control
»» Working with 7 different scenarios
»» Ability to connect the device to building automation or central computer with Modbus (RS485) connection
»» Deactivating the device according to the information from the fire station
»» Fault notification
»» Engine technical protection
»» Summer, winter ventilation position
»» Weekly programming
»» Temperature control from the room control panel
HRU Pro Controller
»» Manual and automatic fan speed control in EC and AC motors
»» Working with air quality sensor
»» Filter fill rate control and alarm
»» Compressor input and control
»» Heating and cooling control in Heat-Pump devices with 4-way valve control output
»» Heat recovery rotor control
»» Temperature sensors input and automatic heater activation option
»» Preheater control with outside temperature sensor
»» Heater or valve control input
»» By-Pass damper control and heat exchanger freeze protection
»» Working with 13 different scenarios
»» Remote control with Modbus (RS485) connection
»» Deactivating the device according to the information from the fire station
»» Fault notification
»» Weekly programming
»» Temperature control from the room control panel